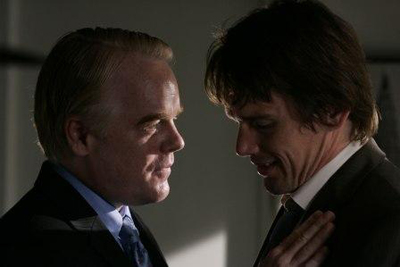 Like a bad trip that won't go away, Ethan Hawke's teeth in
Before the Devil Knows You're Dead
haunt my sleep. Forcing his voice through those yellowed, sharp babies produces the best imitation of Tim Roth's shot-in-the-belly spams in
Reservoir Dogs
I've ever seen. It's indicative of the movie's anachronism that it reveres Hawke's hysterics as realism -- realism filtered through the Method. Kelly Masterson's script too. Hollywood's always been a sucker for comebacks, so it's some kind of achievement that an octogenarian like Sidney Lumet can spearhead a project as overwrought as
The Hill, Prince of the City
, and the worst parts of
Network,
among many, many others (Hollywood also respects a certain kind of aesthetic consistency, which is why Peter Weir still gets the occasional big assignment).
I'm relieved that, as the various critics groups circle the waters, this bit of awards chum has been comparatively overlooked. All I took away was Lumet's unexpected detachment from the scenes in which Philip Seymour Hoffman's skeeze visited a heroin dealer's expensive downtown loft; for a few minutes we're thrown into a Tsai Ming Liang film. Hoffman has never employed his bulk to a better effect as he navigates the familiar geography, taking off his watch, tie, and shirt for what we think is a gay tryst. The dealer, by the way, is played by Blaise Hunter, whose boredom serves as counterpoint to the rest of the cast's grandstanding (his response to Hoffman's confession that wife Marisa Tomei left him: "Bummer."). It's a sign of progress that Lumet shoots him in long shot, without calling attention to his
Man Who Fell To Earth
wedge haircut and kimono. Or maybe he was repulsed. It's hard to know when Lumet clearly prefers Albert Finney's rutting-bison nostril flaring in closeup.